What Are Silk Business Cards?
Our standard is luxury, and it all started with our Silk Laminated Business Cards. Silk business cards have a smooth satin, silk-like polypropelene laminated finish. This thin lamination finish gives a luxe look, but also provides a water and tear resistant protective layer, making silk business cards some of the most indestructable.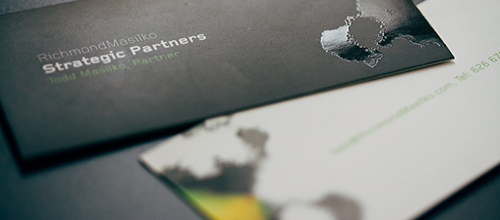 Add Ons & Special Finishes
Bring your design to life with our special finishes. We've got options that shine, that bling, and that feel amazing!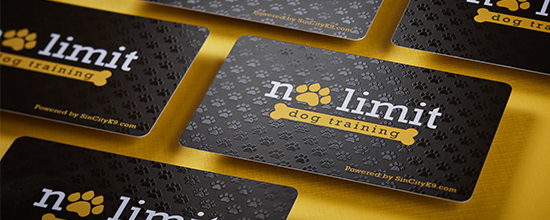 Spot UV
A clear spot gloss coating applied to specific areas of your design to help highlight the best parts. Use Blind Spot UV to create interesting design patterns. The sky's the limit, and we've got that special spot for your creativity.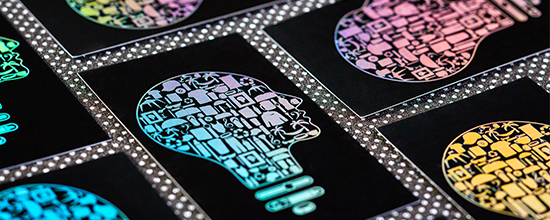 Foil Stamping
Some of the best things in life come from using intense heat. Pizza is the first best thing, but the next is Hot Foil Stamping. We make a die in the shape you specify, take colorful foils, and hot stamp them into your design to create the most legit foil business cards.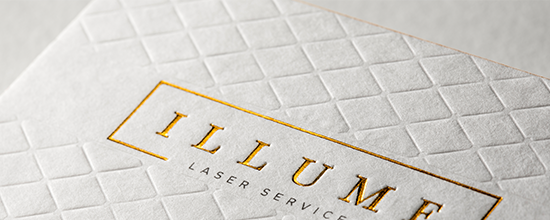 Embossing & Debossing
Let's set it straight. Embossing uses pressure to push and raise up the surface of the card. This leaves an impression on the opposite side. Debossing uses pressure to stamp an indentation down into the surface of the card.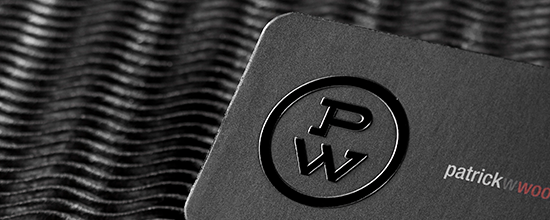 Raised Spot UV & Raised Foil
Our Raised Spot UV and Raised Foil get multiple passes in our magic machines to build up the Spot UV or Foil layers to a thickness of 50 microns. The raised surface will have people rubbing your cards just long enough to be weird.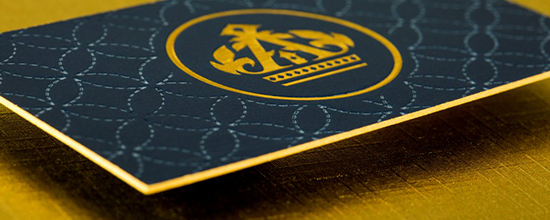 Edge Painting
We just couldn't help but find a way to use every single millimeter of space. After printing, we paint the edges of business cards to give them a striking vibrant accent. It's like the mullet of business cards - business in the front, party on the edge!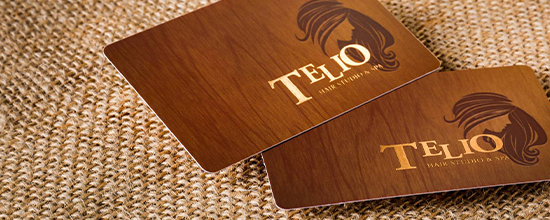 Round Corners
Not a fan of sharp square corners? Soften them up by rounding all of them, or just some of them off.
Sizes
We have some standard sizes that are super common and universal. If that doesn't fit your mood, we also offer custom sizes! Just select the closests standard size, and check the "custom trim" checkbox to enter your size.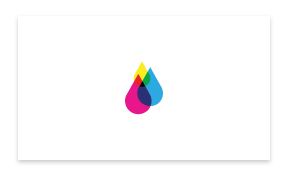 Standard
3.5" x 2.0"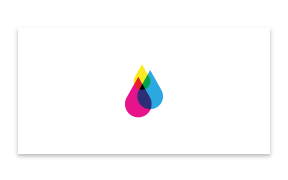 Slim
3.5" x 1.75""
Design Guidelines
How long does it take?
Our daily production cut-off is 11am PST, which means your artwork needs to be submitted and approved by our pre-press team by then to begin production that day. Make sure to follow our guidelines and templates to avoid delays with file approvals.
Production Turnaround is estimated and listed for the product you choose. We do have rush production options available for those super tight deadlines, but in general, we encourage you to submit your orders early. Chat with one of our teammates for more information.